Comfort and Style
Residents gain a comforting community atmosphere when dining at Waltonwood, and eating with others has been shown to improve a person's well-being and sense of belonging. We pride ourselves on our ability to offer residents menu alternatives for restricted dietary plans.
Our Main chefs attend to residents' individual needs by developing a dietary program that encourages good nutrition, with accommodating food choices to meet everyone's preferences.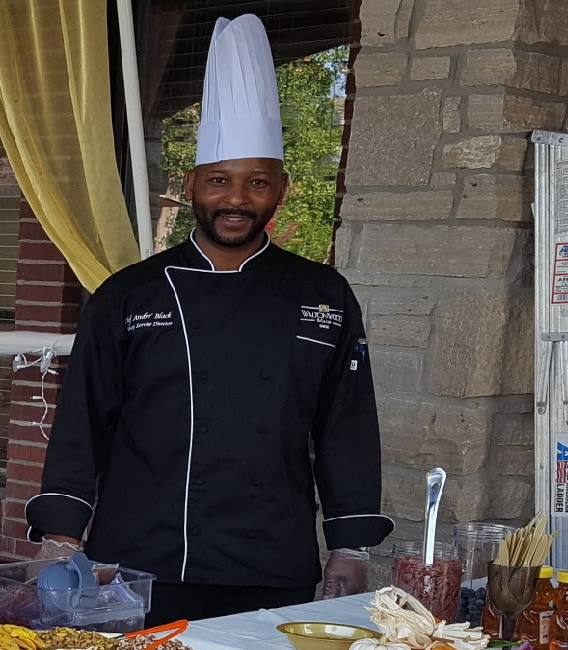 Meet Our Chef
A Detroit native, Chef Andre has always had close ties to the culinary world. Born and raised in Detroit, Andre's interest in the culinary world was sparked by great restaurants such as Pegasus, Fishbones, The London Chop House, Lelli's & Bakers Keyboard Lounge along with his mother and grandmother's great cooking skills. Andre' felt the need to contribute more to society and joined the United States Navy in 1998. After his tour completed, Chef Andre' enrolled in Le Cordon Bleu of Atlanta, Georgia. While in culinary school, Chef Andre' worked in multiple restaurants in the Atlanta area then continued his journey moving to Tennessee and working for Gaylord Opryland as a line cook.

Chef Andre eventually made his way back to Detroit accepting a position as a line cook at Motor City Casino and Hotel under the 1993 James Beard award winning Chef Don Yamauchi for 8 years. During the time working under Chef Don Yamauchi, Chef Andre' states to have learned a great deal from cooking techniques to management skills, being promoted from line cook to Sous Chef followed by Restaurant Manager. Chef Andre is now enjoying his latest venture as a Culinary Service Director at Waltonwood Main.