When we think of February, we often think of Valentine's Day. But there is another reason to think of hearts in February: it's American Heart Month! This is an important time to examine whether we are doing everything we can to maintain a healthy heart. While it is true that heart disease is the greatest health threat to Americans (and worldwide) for both men and women, it's also one of the most preventable through a healthy diet, regular exercise, and maintaining a healthy weight. Having a healthy heart is built into the Waltonwood way of life through healthy cuisine, a robust fitness program, and a staff that supports residents in staying active and fulfilled. Read on to find out some of the ways Waltonwood supports heart health.
Stay "Forever Fit"
The Waltonwood "Forever Fit" exercise program provides the perfect resource for each resident to thrive in his or her own unique way. Under the direct supervision of our fitness coordinators, each Waltonwood community provides exercise options formatted specifically to suit the needs of both independent and assisted living residents. Offerings include strength, endurance, balance, coordination, and flexibility exercises in a safe and enjoyable environment.
Watch our Senior Forever Fitness Manager, Chris Grabowski, demonstrate some easy shoulder exercises to keep the body strong and your heart pumping.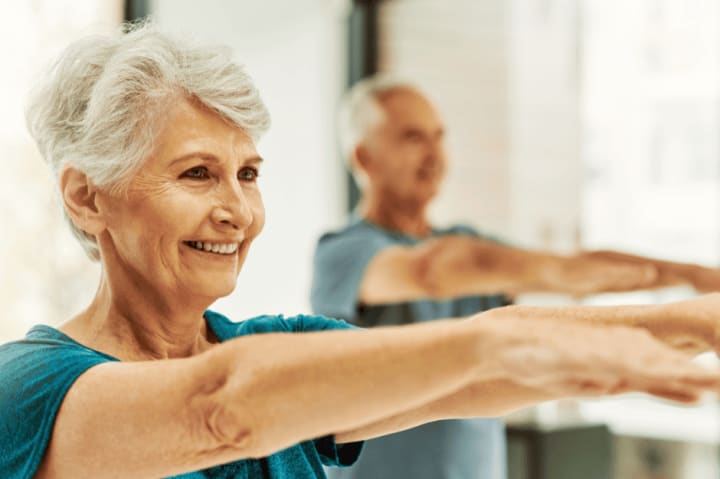 But what about those who have physical limitations or are hesitant to work on their fitness? Waltonwood fitness coordinators understand that every individual is unique and work with each resident to create an accessible, individualized plan for each new participant. With our six-part assessment, fitness coordinators can gauge a new resident's levels of muscle strength, aerobic endurance, flexibility and agility and dynamic balance, ensuring a workout plan that's a perfect fit. Learn more about out Forever Fit program here.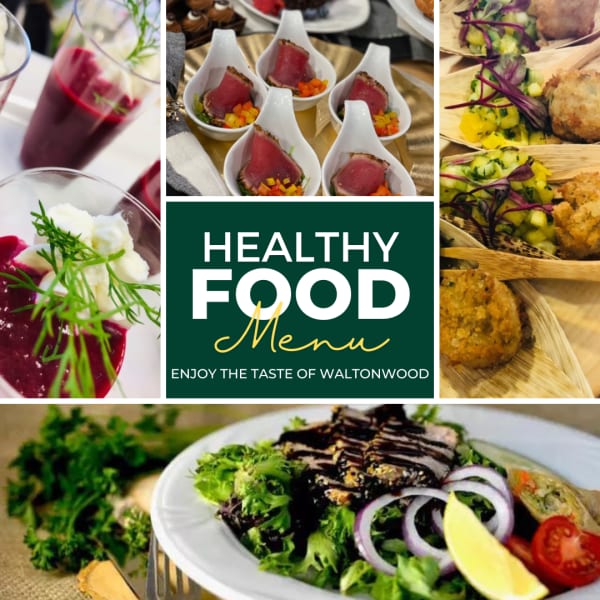 Fresh, healthy food
Eating a healthy diet is crucial to achieving and maintaining heart health. Drawing on careers in the high-end restaurant, travel, or cruise industries, our highly trained team of chefs and culinary professionals are masters of creating gourmet options that don't rely on an abundance of saturated fat, added sugar, and salt. Instead, our chefs utilize fresh ingredients like vegetables, fruits, and foods high in fiber, creating well-rounded meals that are as enjoyable as they are healthy.
Here's a heart-healthy Avocado Egg Sandwich breakfast from our Waltonwood culinary team to start your morning. It's easy to make and delicious.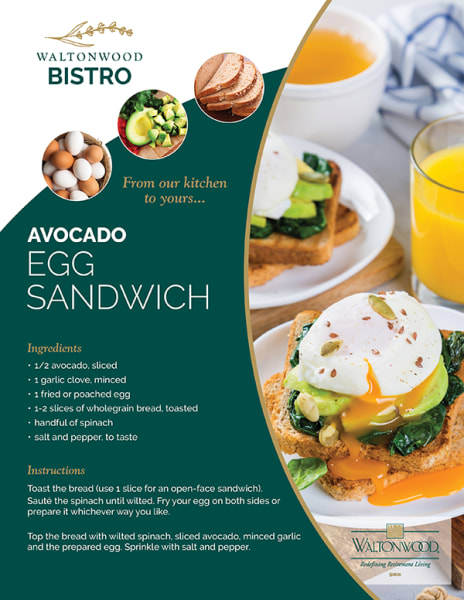 A community of health, wellness, and social support
When it comes to heart health, as well as overall health, everything becomes easier when you have a network of support. That's why Waltonwood's Life Enrichment associates perform all services from a life-enrichment mindset that fosters relationships and encourages a sense of belonging.
In addition to our fitness and culinary programs, our staff helps each resident maintain a healthy lifestyle through daily reinforcement of health habits, promoting well-being and self-esteem, and frequently interacting with residents' family members to cultivate a network of support for their health journey. An active awareness of health issues is always present at Waltonwood, as seen by our residents observing Wear Red Day on February 3 to spread awareness of the cardiovascular disease in women.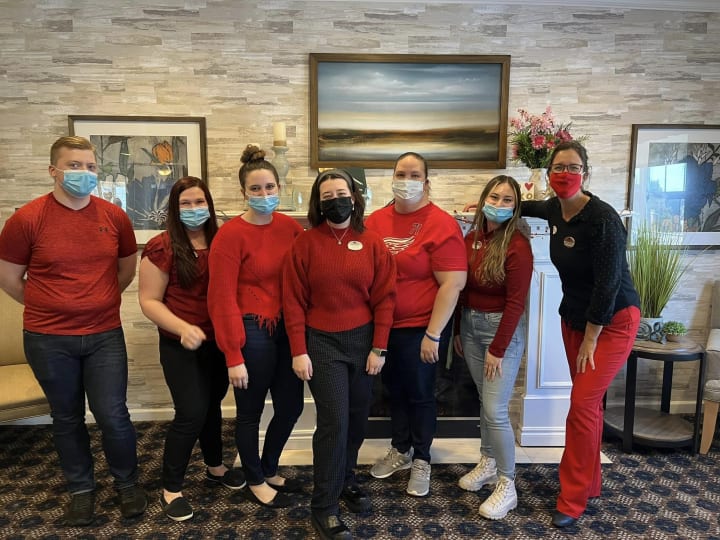 Heart disease is a serious issue threatening people all over the world. But with a little effort and support, maintaining our cardiovascular health is not an impossible task. At Waltonwood, our residents' health, well-being, and enjoyment of life are the top priorities this Heart Health Month and all year long.