Recipes from Waltonwood: Decadent Pumpkin Desserts for the Season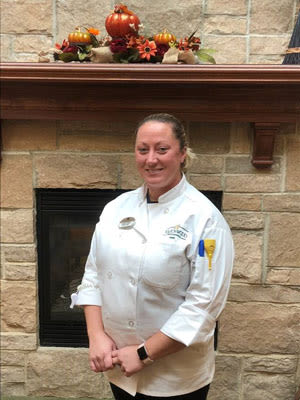 At Waltonwood, our pastry chefs make Halloween, Thanksgiving, and all of December extra sweet for residents.
Waltonwood Providence Pastry Chef Kim Rappa's signature Sugar-Free Pumpkin Pie, Pumpkin Cheesecake Mousse, and Pumpkin Blondies are the perfect addition to the season.
In honor of National Pumpkin Day, let us tempt your taste buds with her recipes.
SUGAR-FREE PUMPKIN PIE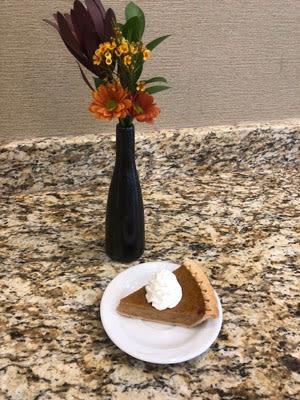 Ingredients
Enough pastry for a 9-inch pie crust or pre-formed 9-inch pie shell 
3/4 cup granulated sugar ** substituted with 1/2 cup of Stevia**
1/2 teaspoon salt
1 teaspoon ground cinnamon
1/2 teaspoon ground ginger
1/4 teaspoon ground cloves
2 beaten eggs
1 (15-ounce) can solid-packed pumpkin
1 (12-fluid ounce) can evaporated milk
Instructions:
1. Preheat oven to 400 degrees F.  Position oven rack in the center of your oven.
2. Prepare pie pastry.
3. In a large bowl, combine sugar, salt, cinnamon, ginger, and cloves; blend in beaten eggs at low speed of your mixer.  Add pumpkin and evaporated milk; blend at  high speed of your mixer until smooth.
4. Pour pumpkin mixture into the pastry-line pie plate.  NOTE: To prevent spills, place pie plate on a wire rack or on the open oven door when filling with pumpkin mixture.
5. Bake 10 minutes; reduce oven temperature to 300 degrees and bake approximately 20 to 35 minutes longer or until the temperature registers approximately 175 degrees on a cooking thermometer. 
6. Remember that the pie continues to cook after it is removed from the oven.  Do not over bake!  The center of the pie should be set but still wobbly; residual heat will finish the job.
7. Remove from oven and let cool on a wire cooling rack before cutting and serving. If desired, serve with sweetened whipped cream.
PUMPKIN CHEESECAKE MOUSSE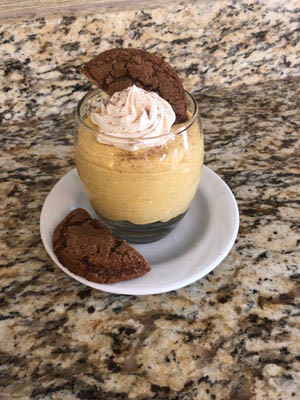 Ingredients
8 ounces cream cheese at room temperature
1 cup pure pumpkin
1/4 cup white sugar
1 teaspoon vanilla
1 teaspoon cinnamon
1/4 teaspoon ginger
pinch of nutmeg (optional)
2 cups whipped topping + more for topping
cinnamon sugar - optional
Instructions
1. Whip the cream cheese, pumpkin and sugar together. Beat on medium speed for 3 - 4 minutes. Sugar should be dissolved.
2. Add the vanilla, cinnamon, ginger, and nutmeg. Blend thoroughly.
3. Fold in 1 cup of the whipped topping. When mixed in, fold in remaining whipped topping. Refrigerate.
4. When ready to serve, put in serving dish and top with additional whipped topping. Sprinkle with cinnamon sugar if desired.
Ginger Snap
Ingredients
3/4 cup butter, softened
1 cup granulated sugar
1 egg
1/4 cup molasses
2 cups all-purpose flour
1/4 teaspoon salt
2 teaspoons baking soda
1 teaspoon ground cinnamon
1 teaspoon ground cloves
1 teaspoon ground ginger
Additional 1/2 cup sugar for rolling (preferably 1/4 cup half coarse sparkling sugar and 1/4 cup granulated sugar)
Instructions
1. Preheat oven to 350 degrees. Prepare a baking sheet with parchment paper, Silpat, or by greasing it.
2. In the bowl of an electric mixer with the paddle attachment, cream butter and sugar together on medium speed. Add egg and molasses and mix.
3. In a separate bowl, mix flour, salt, baking soda, cinnamon, cloves, and ginger together.
4. Gradually add the dry ingredients to the mixing bowl on low speed until everything is incorporated and a dough forms.
5. Scoop dough into balls. (Tip: Use a scoop that measures about 1 1/2 tablespoons.) Roll the dough ball in the sugar and place on the baking sheet (12 per sheet). There is no need to flatten the dough balls. They will spread out as they bake.
6. Bake for 11-13 minutes. Allow them to cool on a cookie sheet for a few minutes, and then transfer to a cooling rack to cool completely. Store in an airtight container.
PUMPKIN BLONDIES
Ingredients
1 cup unsalted butter at room temperature
2 cups light brown sugar, packed
1 tablespoon mild molasses
2 eggs at room temperature
2 teaspoons vanilla extract (Rodelle Baker's Extract)
1 teaspoon pumpkin spice extract (Rodelle)
2 teaspoons pumpkin pie spice
pinch of salt
2-2/3 cups all-purpose flour
2 teaspoons baking powder
Pumpkin Spice Sugar Topping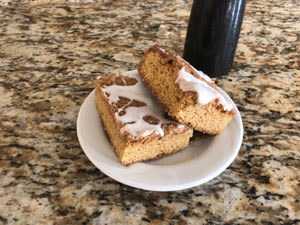 Ingredients
2 tablespoons white granulated sugar
2 teaspoons pumpkin pie spice
2 cups powdered sugar
Small amounts of water for desired consistency
Instructions
1. Preheat oven to 350 degrees. Line a 9 x 13-inch baking pan with parchment paper and spray with baking spray. Set aside.
2.  In the bowl of a stand mixer, affixed with the paddle attachment, add the butter and beat on medium-high speed until light and creamy. Add the brown sugar and molasses to the butter and beat until light and fluffy. Scrape down the sides of the bowl as needed. Add the eggs to the mixture one at a time, beating the first egg in completely before adding the second egg. Add the vanilla extract, pumpkin spice extract, pumpkin pie spice and salt to the mixture, and mix on medium-high speed until fully incorporated. 
3. Change the mixer speed to low and add the flour and baking powder to the mixture. Mix until barely incorporated. Remove the bowl from the mixer and use a rubber scraper to ensure all ingredients are incorporated. The batter will be thick. Dump batter into prepared pan and spread evenly into the pan. Put a little water on your fingers to help evenly spread the batter into the pan. Set aside.
4. Prepare pumpkin spice sugar mixture: In a small bowl, combine the sugar and pumpkin pie spice and stir until combined. Pour sugar mixture evenly onto the top of you blondie batter. 
5. Bake blondies in 350-degree oven for 25 minutes. Remove the blondies from the oven and let set and cool completely before slicing into squares.