Comfort and Style
Residents gain a comforting community atmosphere when dining at Waltonwood, and eating with others has been shown to improve a person's well-being and sense of belonging. We pride ourselves on our ability to offer residents menu alternatives for restricted dietary plans.
Our Royal Oak chef and culinary team attend to residents' individual needs by developing a dietary program that encourages good nutrition, with accommodating food choices to meet everyone's preferences.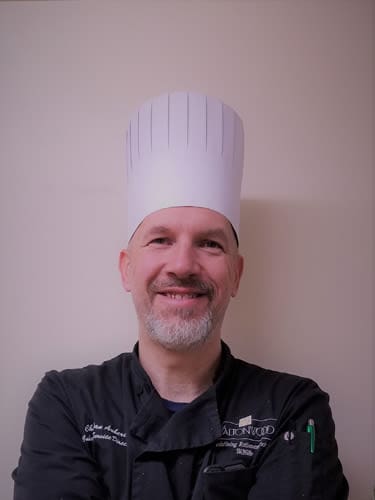 Meet Our Chef
Robert Auberle is a professional chef with over 25 years' experience in the food service industry. He has a true passion for promoting good health through nutrition. Robert earned his culinary certificate from the American Culinary Federation in 1999 through a three-year apprenticeship, and holds two certifications in nutrition which he earned in 2005 and 2011. He also has both ServSafe and HACCP training as well as dual role ServSafe certification as an instructor and proctor. Robert upholds himself and his team to these 3 important traits: Enthusiasm, Fundamentals and Integrity. He believes with these three traits you can succeed in anything! Robert is married and a father of three daughters.