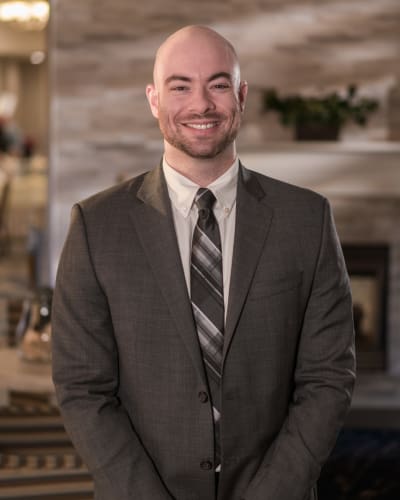 Meet the Executive Director of Waltonwood Lakeside
Greg is a Michigan native that has lived in the Novi area his entire life. Before coming to Waltonwood, he obtained a Bachelor's Degree in Allied Health Services from Grand Valley State University. From there, Greg went on to get his Master's Degree in Healthcare Administration from Central Michigan University. This education, coupled with some health issues with his father, is what really got him interested in caring for others.
Greg started as a caregiver with Waltonwood in 2012, and has loved senior living ever since. He really enjoys interacting with the residents, and is truly dedicated to person-centered care, helping to make people feel as safe and comfortable as possible as they transition into their new home. Nothing makes him happier than to see residents smiling, having fun, and building new relationships with both the staff and others.
In Greg's spare time, he enjoys exercising, watching and playing a variety of sports, and spending time with family and friends. In the summer time, he is usually outside lounging by his backyard pool, or up north at Higgins Lake on the water.
Greg is truly honored and privileged to be able to lead the Lakeside community!