Comfort and Style
Residents gain a comforting community atmosphere when dining at Waltonwood, and eating with others has been shown to improve a person's well-being and sense of belonging. We pride ourselves on our ability to offer residents menu alternatives for restricted dietary plans.
Our Lake Boone chef and culinary team attend to residents' individual needs by developing a dietary program that encourages good nutrition, with the creative freedom to accommodate food choices that meet everyone's preferences.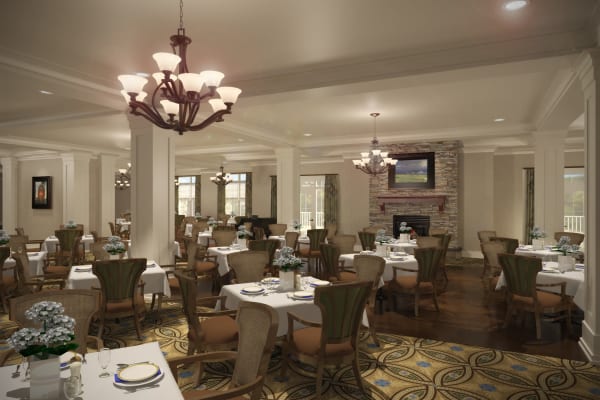 Additional culinary and dining options include:
Restaurant-style dining — Rather than limiting residents to a couple of standard entrée choices, we now have a menu that we rotate with the changing seasons, in addition to our daily menu selections. Our dining area also transitions into the outdoor terrace during the warmer months.
Exclusive chefs and hospitality professionals —Waltonwood Lake Boone has a pastry chef as part of our culinary staff, specializing in upscale creations that include pulled sugar and chocolate work.
Food as entertainment — In addition to our specialty pastry creations, we employ at-table Action Stations, offering food preparation as an entertainment service for our residents.