Life Enrichment Programming at Waltonwood Cary Parkway
Our Life Enrichment Programming offers a wide-ranging selection of activities and social activities, all led by our Life Enrichment Managers. The Cary Parkway program features opportunities for wellness, arts and culture, making new friends, and discovering new passions. It also offers activities designed to encourage personal growth and the pursuit of a purposeful life, by fulfilling residents' personal, relational, and educational needs.
Diverse Activities
Many residents also lead their own clubs or committees, and Cary Parkway's voted resident council is directly involved with the senior community through monthly meetings with department heads, presenting questions, comments, or concerns on behalf of the residents. We also feature a Crafts Room where residents can teach or take part in classes to learn new arts, crafts, and other skills. Excursions to Hamrick's Grocery Store and bi-weekly dinner outings are additional options to keep residents involved.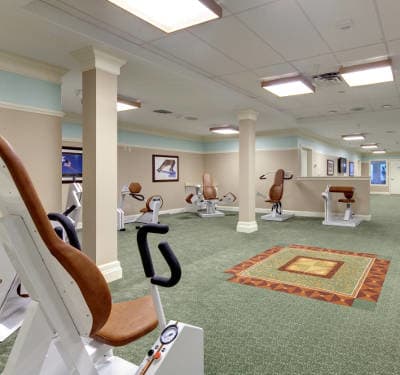 Forever Fit Exercise Program
Our "Forever Fit" exercise program provides the perfect resource for each Waltonwood Cary Parkway resident to thrive in his or her own unique way. By combining strength, endurance, balance, coordination and flexibility classes in a safe and enjoyable environment the "Forever Fit" Program helps to keep our residents active and motivated. We also provide residents with access to visiting physicians and other outside heath care services, such as physical and occupational therapy.