Additional culinary and dining options include:
Restaurant-style dining — Rather than limiting residents to a couple of standard entrée choices, we now have a menu that we rotate with the changing seasons, in addition to our daily menu selections.
Exclusive chefs and hospitality professionals — In 2017, Waltonwood Providence added a pastry chef to our culinary staff, specializing in upscale creations that include pulled sugar and chocolate work.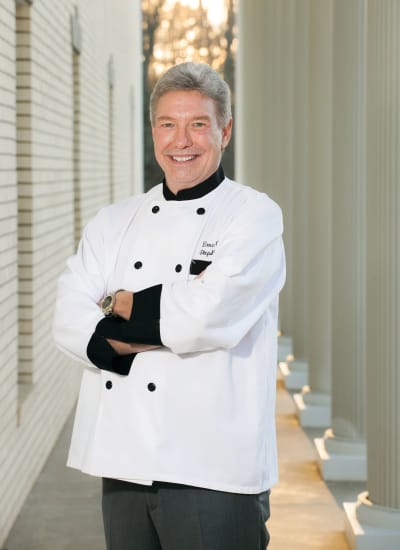 Meet Our Executive Chef Steve Archer at Waltonwood Providence
As a Registered Dietitian and an Executive Chef, Chef Steve Archer, MS RD LDN belongs to an uncommon group of experts in the field of dietetics, food science and nutrition. He is a knowledgeable, professional culinarian in the kitchen, a nutrition expert, a researcher, a nutrition educator, and has an absolutely insatiable appetite for food history and its origins.
Chef Steve is a graduate of Winthrop University where he received both a BS in Human Resources Management with a minor in History, and a MS in Human Nutrition. He completed his dietetic internship at the prestigious Novant Presbyterian Hospital in Charlotte, NC and the Spartanburg School District. He also holds a Culinary Arts degree from Johnson & Wales University where he graduated Summa Cum Laude.
He has a wealth of experience as a Gulf War veteran, former Firefighter, Executive Recruiter, and Senior Executive Human Resources Consultant. In addition, Chef Steve also has a diverse background in the culinary world that includes cooking at top hotels and restaurants on the east and west coasts, working for celebrity Chef Bradley Ogden, Springs Industries, and a number of private holdings. Chef Steve is currently the Culinary Services Director at Waltonwood Providence in Charlotte, North Carolina.
He has led numerous food and nutrition education programs to audiences ranging from school children to elderly adults, from addicts in recovery to home cooks, and providing training culinary staff at every level of skill from Apprentices and Commis to Executive Chefs.
He is an active member of the Academy of Nutrition and Dietetics, the American Culinary Federation, the International Association of Culinary Professionals, as well as Nutrition Entrepreneurs Dietetic Practice Group. Chef Steve's goal is to combine his culinary expertise with his knowledge of nutritional science to bridge the gap of understanding between the food, nutrition, and wellness industries and consumers. He focuses on opportunities to utilize his unique experience and qualifications as both as a chef and registered dietitian to teach others how easy it can be to live a healthy lifestyle.
Chef Steve is located in the Southeastern region of the U.S. in Charlotte NC. During his free time he enjoys travel with his wife Durann, history, food anthropology, reading, revising and testing new recipes, trying any new restaurant and cycling.